Do you have or know any rising middle and high school girls? Have them come ride mountain bikes! Learn about the Maryland Interscholastic Cycling League by attending one (or all!) of these preseason events, one of which is in Bel Air at the Bear Legacy Adventure Trail! The events are beginner friendly and you will meet some of the league's fantastic female student athletes and coaches.

On April 25, 2020, Voluteens will be painting the our newly built treehouse.
What's Happening at the Bear Legacy Trails?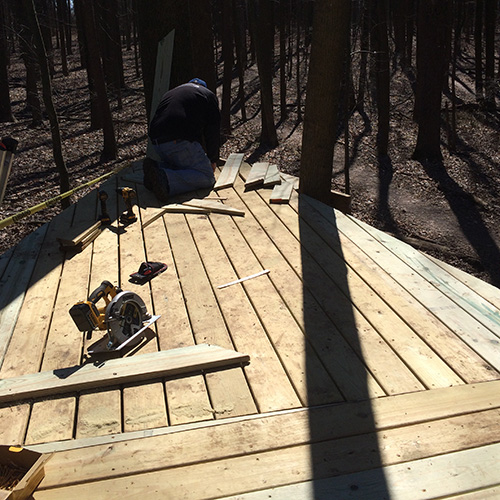 New Tree House Construction
We have begun the construction of a new treehouse located near the north corner of the perimeter trail (white blaze). This is a much larger project than anticipated and could use a couple of experienced handymen/women to help complete the project. The next scheduled date to work on the treehouse is Saturday, March 7, 2020. Anyone would like to volunteer for this project, please eamil us at volunteers@bearlegacy.org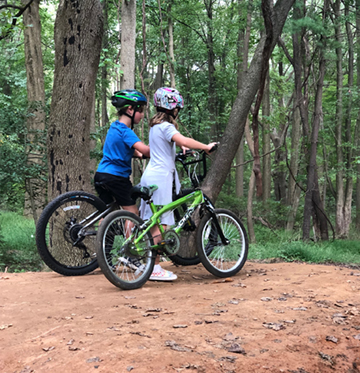 Kids Bike Pump Track
The pump track is mostly completed, although we are hoping to add a few more features with the dirt that was delivered. The track is rideable, so families, enjoy with your kids. PLEASE WEAR HELMETS! This is the #1 rule, and respect other riders. We are working on having a Pump Track Rules sign made to be posted at the track. In addition to the pump track work, we will be creating a hangout spot with picnic tables and other features in the center area of the track.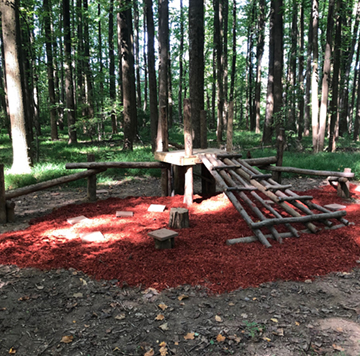 The Floor is Lava
Red mulch was just purchased and laid around this fun station located on the Story Forest Trail (orange blazed). We still need several more bags of mulch to complete, but it's a start.
Trail Maintenance Projects
Various Projects around the trail
We have a list of projects around the trail that requires regular maintenance, such as:
-Curbside weeding of the mulched area of the parking lot entrance
-Fairy Garden up-keep and new additions
-New podium board for the outdoor classroom
-Painted vegetable rocks added to the vegetable rock garden located in the Den
-Soil added to the flower beds
-Maintenance of the trails
We try to visit the trails as much as we can to see what needs work, but don't always get out as much as needed to identify problem areas. So if you visit the trails and see an area that needs improving, or if you are interested in volunteering for any of these projects, contact us at volunteers@bearlegacy.org.
Located at: 

2503 S.Tollgate Rd., Bel Air, Maryland 21015