What's Happening at the Bear Legacy Trails?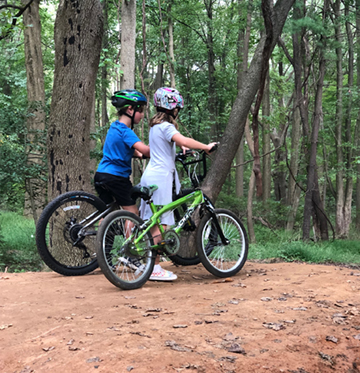 Kids Bike Pump Track
The pump track is about 50% completed. We are waiting for more dirt to be delivered and coordinate with volunteers and equipment availability. The track is rideable, so families, enjoy with your kids. PLEASE WEAR HELMETS! This is the #1 rule, and respect other riders. We are working on having a Pump Track Rules sign made to be posted at the track. In addition to the pump track work, we will be creating a hangout spot with picnic tables and other features in the center area of the track.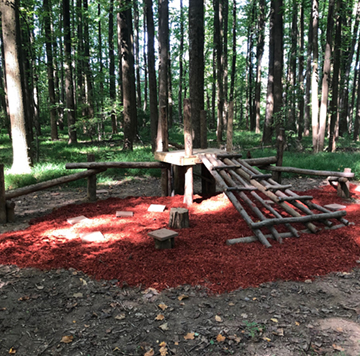 The Floor is Lava
Red mulch was just purchased and laid around this fun station located on the Story Forest Trail (orange blazed). We still need several more bags of mulch to complete, but it's a start.
Wetlands wooded walkway construction

South end of Perimeter Trail (White Blaze)
Next Planned Volunteer Day: October 18-19, 2019 | 12-4pm
This project was started in late Spring to address the persistent wet section of the perimeter trail (white blaze). Many hikers/runners have created alternative trails in attempt to bypass the muddy section of the blazed trail, but this only makes the problem worse.
We completed 30 feet of the walkway with approximately 70 feet more to go in order to clear the problem section. Recently, a large tree fell on the completed section damaging several planks. The tree has been cleared, but we now have to repair the damaged section as well as continuing the walkway.
We are currently recruiting a team of volunteers that can help with this project. the work involves cutting  and moving logs for the mud sills, hauling, cutting and screwing in the decking for the walkway. Some tools are provided, but additional tools such as cordless screw guns are always helpful.
If you are interested in volunteering for this project, contact us at volunteers@bearlegacy.org.October
Trail Maintenance Projects
Various Projects around the trail
We have a list of projects around the trail that requires regular maintenance, such as:
-Curbside weeding of the mulched area of the parking lot entrance
-Fairy Garden up-keep and new additions
-New podium board for the outdoor classroom
-Painted vegetable rocks added to the vegetable rock garden located in the Den
-Soil added to the flower beds
-Maintenance of the trails
We try to visit the trails as much as we can to see what needs work, but don't always get out as much as needed to identify problem areas. So if you visit the trails and see an area that needs improving, or if you are interested in volunteering for any of these projects, contact us at volunteers@bearlegacy.org.
Located at: 

2500 S.Tollgate Rd Bel Air Maryland 2101